Quote:
Originally Posted by
USCGNavig8tor
Nice job Wes. Can't imagine how long it took to do that stock.
Quote:
Originally Posted by
Capona
Very nice Wes.

That looks like tedious work to me, and requires a steady hand.

How many hours you got in with just painting it?
How many hours? Answer = a lot less then the first time I did this pattern! You all may have read about my Hardened Big Red Stocks - I have done about 15 Hardened Big Reds in a combination of the Modified Vietnam Tiger Camo and Gap Camo so I have lots of practice.
Here is a link if you want to read about the Hardened Big Reds.
M1Army - "Hardened Big Red Project"
Originally - I traced the Vietnam Camo pattern on to tracing paper then hand cut patterns that I can re-use on my vinyl patterns. However, I still cut the vinyl with exacto Knife as the pattern is very unique. It takes about 2 hours to hand cut and place the templates. The hand painting for the earth brown sections and coyote for the elephant grass takes another 1.5 hours (I paint that free-hand). Filling the full auto cut out is another hour to fill and sand. The carbon fiber strips take another 1 - 1.5 hours. The two base colors of OD Green and Black are just straight painting and does not take long. I guess 5-6 hours plus a few more for stuff I missed!
Like with any stock project - preparation and patience is the key and the good Lord blessed me with patience which is the key to painting and refinishing the USGI Wood.
Here are a few pics of the patterns on the Hardened big reds.
Two of the Gap Camo.
My hunting rifle:
Gap with different colors
AG composite in Vietnam Tiger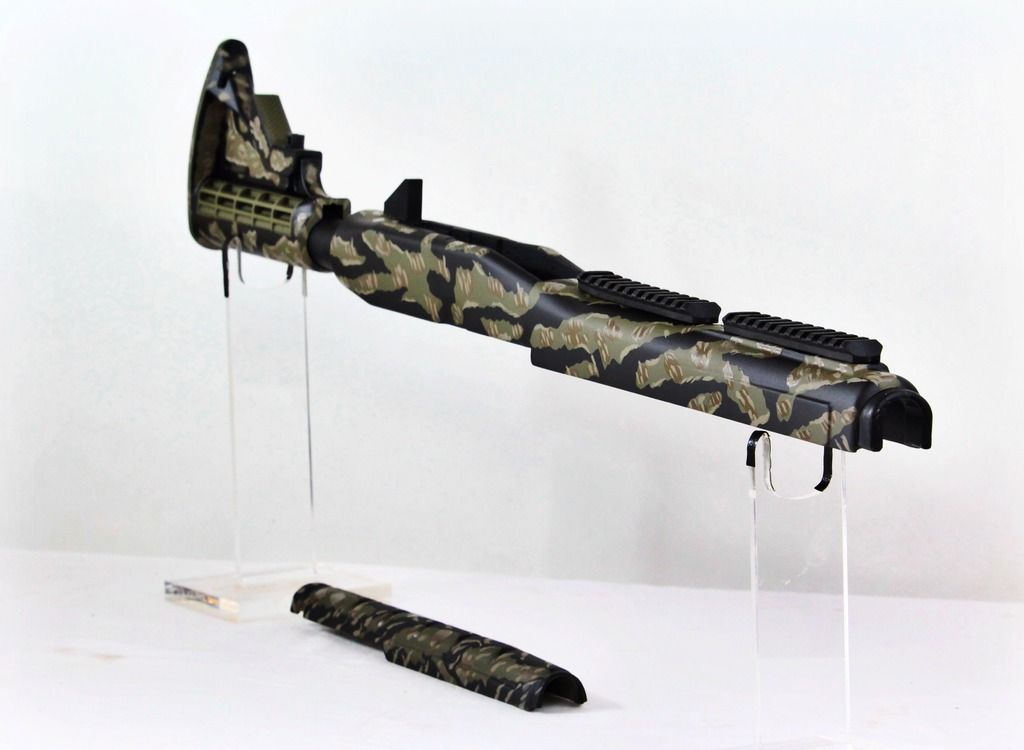 Hardened Big Red in Vietnam Tiger Stripe