Some folks liked pics of my USMC M70 replica sniper that I posted recently, so I decided to take a couple more vintage "steel and wood" USMC replica snipers out of the safe for a few group pictures. So, for anyone interested, here are representations of the 4 rifles that the USMC used as sniper rifles from approximately 1943 to 1977, more or less in chronological order...(bottom two rifles in 2nd picture would need to switch positions to technically be accurate re service use chronology, but my little rifle stand didn't accommodate that sequence of rifles very well).
Group pic (bolt action rifles only):
Group pic (with M1C Garand added):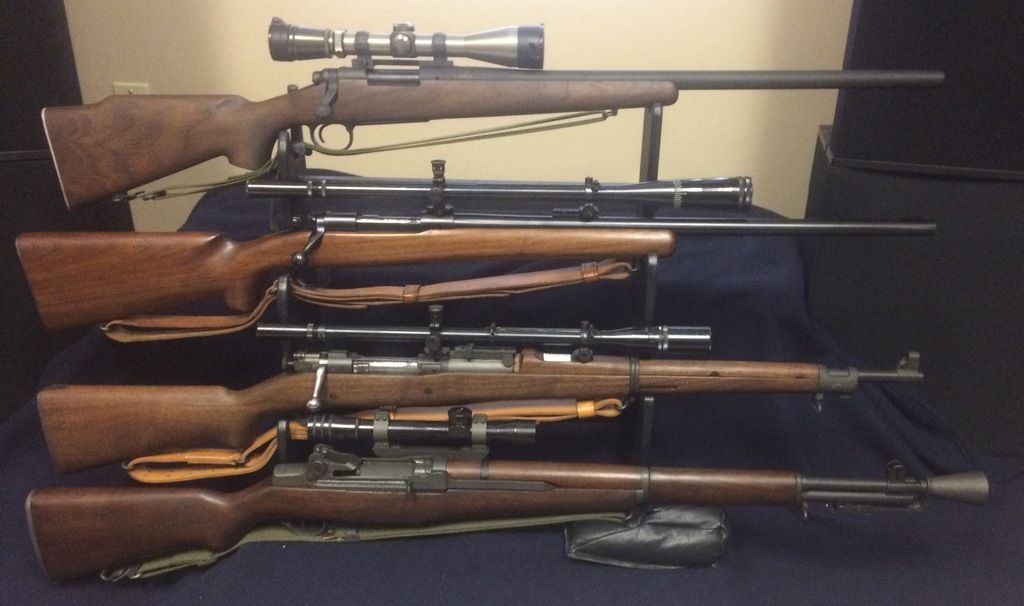 Top
: M40 replica with commemorative USMC green anodized Redfield/Leupold 3-9x scope. (This is a Chuck MaWhinney overrun rifle). This tribute rifle is representative of what USMC snipers used circa 1967 till about 1977, when they were converted to the M40A1 configuration.
Upper Middle
: vintage 1954 or 1955 Winchester M70 in Marksman stock, medium-heavy Douglass match barrel, with 10x Lyman Super Target Spot scope. This tribute rifle is representative of what the USMC shooting team used in the 1950s as a competitive match rifle, and then used as a sniper rifle in Vietnam in the 1965-1966 period, until the M40s became available (as seen above).
Lower Middle
: vintage 1923 Springfield 1903 rifle with Leatherwood 8x scope. This tribute rifle is representative of the National Match 1903s with A1 stocks that were used in the 1930s, some of which were subsequently converted by the USMC to sniper rifles with the 8x Unertl scopes during WWII. They were used in the Pacific theater beginning in 1943, and again during the Korean War circa 1951-1953, before being replaced with the M1C sniper rifle in USMC 1952 configuration (as seen below). I think this is my favorite vintage rifle to shoot in CMP competitions...just something neat about the old 1903s...
Bottom
: vintage Dec 1944 Springfield M1C sniper rifle (from CMP) with a USMC MC-1 Kollmorgen 4X scope, but on a reproduction G&H scope mount. It also has the M2 cone flash hider. This rifle is representative of the 1952 USMC sniper rifle, probably used from approximately 1953 to around 1965 (I think). Note: The leather cheek piece that is typically tied on the stock is currently not installed, but I have a 1952 MRT dated cheek piece to complete this rifle.
Optics on M40 and M70 (1960s and 1940s technology):
Optics on 1903A1 and M1C (1940s and 1950s technology):
Anyhow, I guess you can say that I like these old "steel and wood" rifles, so I thought I might share a couple of pics for those who also enjoy this hobby. Happy Friday.