Quote:
I'm a pure Tung oil guy myself. Slow to dry as well but well worth it. Love the stuff and it doesn't get sticky.
I agree, and although most folks don't realize it, M1s built at Springfield Armory starting using "chinawood oil" (today known as Tung Oil) in the later half of WWII (circa 1943), and every post-war M1 Garands used Tung Oil (circa 1952-1957) as the original finish (and as far as I know, this also applied to Spring Armory built M14s stocks too) - it was not raw linseed oil. The reason was simple, pure Tung Oil protects the wood better than raw Linseed Oil, and it doesn't turn the wood dark over time.
Here's page 125 from Bruce Candfield's excellent book,
The M1 Garand
:
Quote:
"The stock and handguards of the M1 rifle were made from a good grade of black walnut and were oil finished. As has been done with the M1903 rifles, Springfield Armory initially used raw linseed oil on the M1 stocks and applied it by immersion in a vat. Army manuals cautioned against getting linseed oil on metal parts, as a sticky residue would result. As the supply of linseed oil began to diminish in 1942, "chinawood oil" (tung oil) began to be used instead, but linseed oil continued to be an approved substitute. This was confirmed in the Springfield Armory Annual Report for Fiscal Year 1942, which stated: "The chinawood oil compound developed in cooperation with the Pratt-Lambert Company for finishing rifle stocks and handguards has been approved as standard and is now in use in the Armory." One thousand stocks and handguards treated with this finish were sent to Army units for field testing, which resulted in tung oil being adopted as standard. Tung oil was a more durable finish than linseed oil and had the additional advantage of being resistant to yellowing with age."
...Linseed oil was still used by troops in the field, as it was readily available, but the factory applied tung oil. Today, pure tung oil is a little harder to find, but its a better protector re wear and water penetration, and its a more correct finish for 1943 and later M1 stocks, and M14 stocks as well. In fact, the issue of linseed oil darkening the wood is why, when CMP sold some never issued/still in wrap post-war M1s from the mid-1950s, many people thought the stocks were
birch stocks, given how light-colored they were
, but they were simply black walnut stocks that
never had linseed oil applied
(just Tung Oil), and thus retained their natural color which is much, much lighter than what you see on many M1 stocks that had linseed oil applied back in the 1940s or 1950s....just a little factoid re this topic.
(For new production stocks, Linseed Oil will give it a more vintage reddish color, but for my vintage stocks, I only use pure tung oil).
Quick case study
: In the this picture you can see two nearly identical 6 million serial range, all original SA M1 Type 1 National Match rifles (top rifle was sold in Oct 1958 and bottom one sold in Dec 1958, per DCM/CMP paperwork). The rifle at the top has its original Tung Oil finish (dry and light colored), whereas the lower rifle someone applied linseed oil (or boiled linseed oil) at some point in its life, and the wood has turned a reddish color due to natural oxidation (or 'yellowing' of the linseed oil)...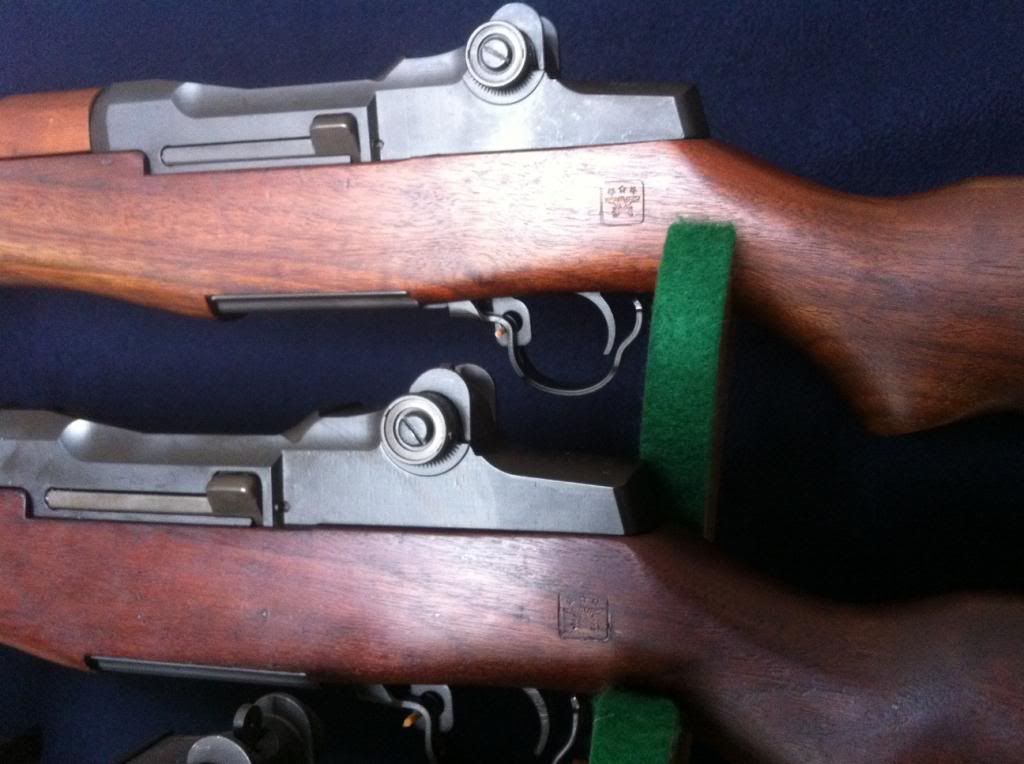 ...and while the reddish color looks kind-of nice, the top rifle and its wood color is actually more correct, as its pure tung oil finish back in 1958 has not oxidized over time. For these reasons, I don't recommend linseed oil for collectible/cartouched WWII era stocks, as it will continue to darker the wood's color over time. For anyone interested, here a family photo of post-war II Garands:
...all of these stocks are black walnut, but obviously it comes in various colors...and me thinks some stocks may have gotten a bit of linseed oil applied, while a couple of them still have only tung oil based finishes...