Quote:
take a look at The Long Range War, Sniping in Vietnam by Peter Senich at page 245-246 for the Brookfield AN/PVS-4 adaptor. Also notice the hooded NM apertures on these early 25s. Later specs by Mitch eliminated use of hooded apertures.
Here's page 245:
Here's page 246: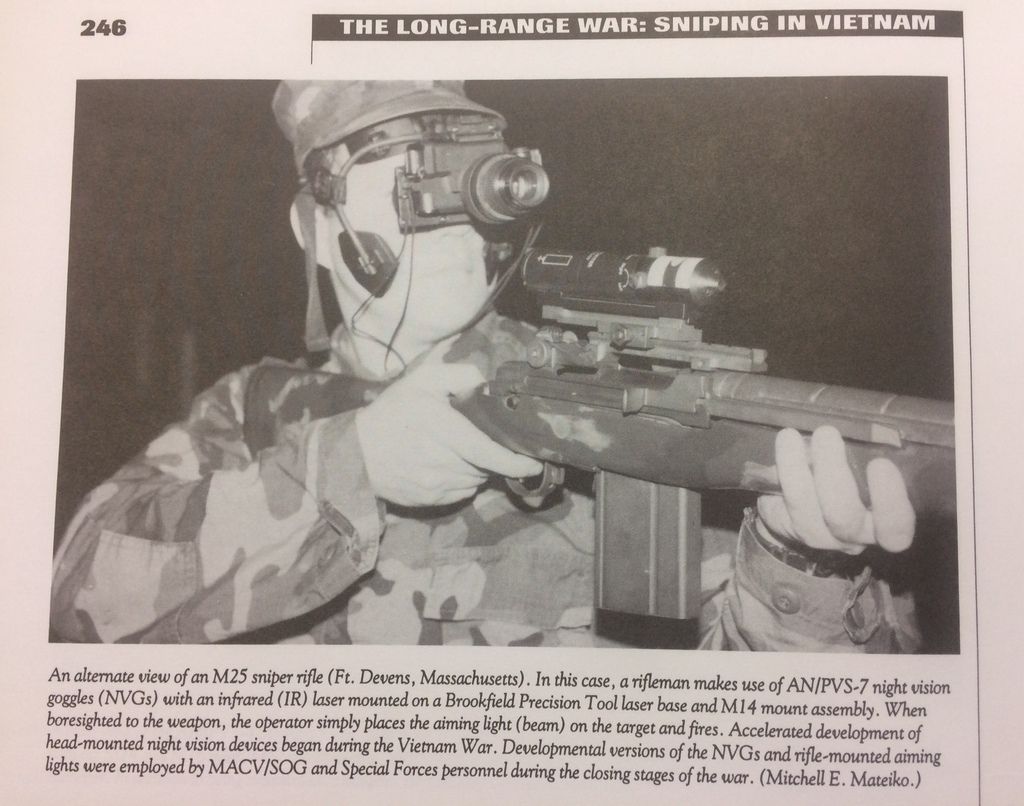 You can clearly see the hooded NM rear apertures in both pics circa 1992. My guess is that the hooded apertures were omitted from subsequent builds given that they are a bit
taller
than non-hooded apertures, so you can run into
clearances issues with the scope's ocular hitting the hooded aperture
- esp if its not all the way down - its happened to me on my ART II scope. Perhaps someone can ask Mitch that question, but that is my best guess regarding this minor change in XM25/M25 builds (as you can see on the top pic - their isn't much room to spare...)
What I find interesting in those two pics is the fact that those are early "smear" pattern camo stocks, similar to the M40A1 stocks the USMC got in the late 1970s/early 1980s time period. I had assumed most M25 stocks were black with some forest camo pattern, but based on this picture I think the Army must have used whatever stocks they had on hand, including the earlier "smear" pattern stocks for M25 builds.
Quote:
Very interesting thread for those thinking of what McMillan stock to use for their XM25 project.

I can't wait to see what the folks who bought in on the BPTco. liners come up with
Based on what I have seen, there may have been bit of variety in XM25/M25 stocks, based on pics from this forum and a book or two.
1.
Black stocks with USGI M14 sling swivels and Pachmayr buttpad
(see below picture of Mr. Mateiko circa 1988).
2.
Black stocks with front and rear studs only, and with a Pachmayr buttpad (M1AOH6 picture from 2016 on this forum)
:
3.
Black stock with USGI sling swivel and USGI M14 buttplate
(I suspect this is an M25 and not an XM25 rifle. I will note it is missing its rear sight completely. I presume this was a Navy SEAL rifle with its associated Navy NSN #1005-LL-L99-5690):
3.
Greenish "smear" pattern forest camo stock as seen above
, no idea what sling hardware or buttplate/buttpad, as this is unfortunately not shown in pics. The 1992 era pics refer to the rifle as an "M25" so maybe they were not used on the earlier XM25, but hard to say either way.
4.
Forest camo (predominantly the dark "greenish" earlier pattern, possibly with a bipod stud installed in front of sling swivels
. (Here's Ren's super nice XM25 stock as found on this forum):
5.
Forest camo ("later") pattern from I presume early to mid-1990s era is 1/3, 1/3, 1/3 evenly distributed dark green/light green/brown pattern with Pachmayr butttpad or USGI buttplate
. This pattern is seen on Toki's XM25 stock with early liner, and also on what
I think
was a civilian XM25 that Mitch built in the 1990s. It has Pachmayer buttpad, and studs only front and rear. Here's the picture M1AOH6 posted last year that shows this "later" forest camo pattern:
(Note: my M25 project is also using this forest camo pattern, but with a standard M14 buttplate and sling swivels)
So their are several stock options that could be considered somewhat "correct" for an XM25 just based on these pics (even Mitch used an M2A stock for his personal XM25 build with a 4-color camo scheme, but I digress...).
As for me, assuming I get the stock liner, I'm going to base my prospective XM25 project on the prototype XM25 rifle that Mitch is holding in his profile pic. from this forum, which he noted was taken at Ft. Devens in 1988 (picture is transposed/flipped):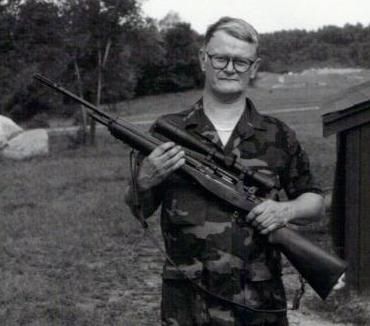 ...appears to be a black McMillan M1A stock with standard M14 sling swivels but with the Tom Kapp-specified Pachmayer buttpad. It doesn't have a front bipod stud, but apparently this was added to some of these rifles at a later date, so I might add a stud to mine as well, not sure at this time. (I doubt I'll be able to find an early black McMillan from that era with the faux stock screw inlet, so I'll end up ordering one from McMillan at some point with the Ft Deven cut), I do have a 1907 sling set-aside for a XM25 project (or an M40A1 project): "MRT 12/86"
Anyhow, the XM25 project will hopefully be my major project for 2018...as I won't finish my current M25 project until this summer.