So off to the range a bit later than expected this morning......had a buddy come over last night and well, he brought a 30 pack and I was already forearm deep into one....late night to say the least....; )
Thankfully pistol range was not crowded....in fact pretty much had it all to myself. After my first two mags I was alone for the remainder of time...which is nice.
So, the Auto-Ordie had been stripped, cleaned, lubed, magazines numbered, and probably dry fired a million times since I brought it home. I was anxious to say the least.
I set my stand up with a typical cardboard silhouette at 15 yds. I wanted to run each full mag and evaluate for any pistol or mag malfunctions. Locked and loaded....on target.....my first though was.....damn my eyes got bad......I almost forgot how the issue sights were, and my progressive lense glasses had my head in some weird ways trying to find a sharp front sight....lol...not too be had, but more on that later.
I ran through all seven (07) mags without any issues with them or pistol. That was deliberate slow fire. I was pretty impressed. Nothing fell off, no FTF, no FTE, brass all went to a neat little pile after bouncing off the netting....all went as should.
Next set of full mags I wanted to step it up.......rapid fire.....all went well, until mag #6....the trigger remained depressed. Training kicked in....TAP-RACK-BANG-BANG-BANG. I put #6 aside. Same thing for #7......trigger did not reset. This time I simply pulled it out and the rest of the mag went fine.
Hmm. I took the slide off and made sure disconnector wasn't sticky.....nope. Could be several things....maybe #6 and #7 mags are swelled a bit and rubbing trigger bow? Maybe the sear spring is giving me a weak middle finger (pun intended).....maybe maybe maybe.....I slapped the slide back on and kept on burning rounds trying to see if it happened again.....nope.
Next I wanted to shoot controlled for accuracy......I had a small "X" low on the silhouette. I already knew it was shooting a bit high...not being able to pick up that front site didn't help....damn glasses.....even with a little permanent marker on it....so, I decided to use old slab sides for something its a natural at.....Cirillo Technique.....15yds is a tad far but worked great. Once I figured out the POA for that it was fairly easy.
After basically trying to come across more malfunctions the pistol performed very well for 170 or so rounds. Just those two little weird glitches with mags #6 and #7 that did not happen again....
The last 30 were saved to shoot the Navy Small Arms Watchstander Qualification course (OPNAV 3591.1C J-041-0148 ) on a fresh target
Slow Fire 15 yds 2 mags of 5 rounds not timed
Timed Fire 15 yds 2 mags of 5 rounds 20 secs
Rapid Fire 15 yds 2 mags of 5 rounds 15 secs
Believe it or not.....students only had to have 20 out of 30 hits on paper to be certified as armed watchstander.....AND I had plenty fail!
I was happy with the AO BKO....we will see how it holds up over time before any tweaking is needed. Those sights made me feel old....group on qual was not as tight as I had 30 yrs ago.....on the next range trip I will try the Pistol Marksmanship Ribbon shoot. Basically the same thing but at 25 yards, and a Standard American Slow/Timed Fire target which is scored as the following:
225-300 Expert (Medal and ribbon with E device)
200-224 Sharpshooter (ribbon with S device)
180-199 Marksman (the dreaded "Naked" ribbon.....yikes)
My highest with a issue 1911 was 275......with our match pistols it was 300 or close to all day long......; )
The old issued UM84 and mag pouch!
[IMG]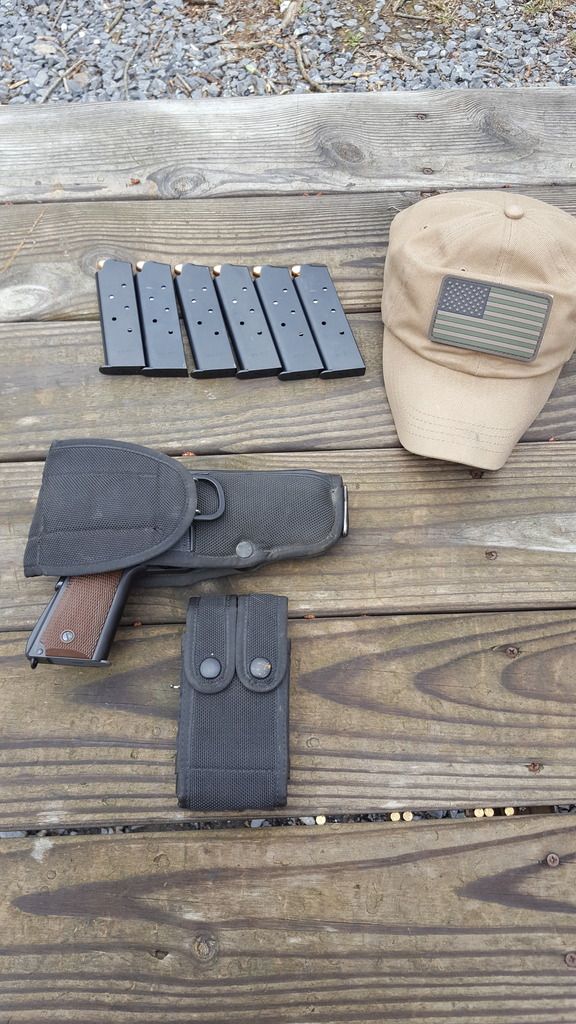 [/IMG]
Getting ready for the qual course....cleared and safe weapon.....lol
[IMG]
[/IMG]
30 on target...
[IMG]
[/IMG]
Going to keep her.....
[IMG]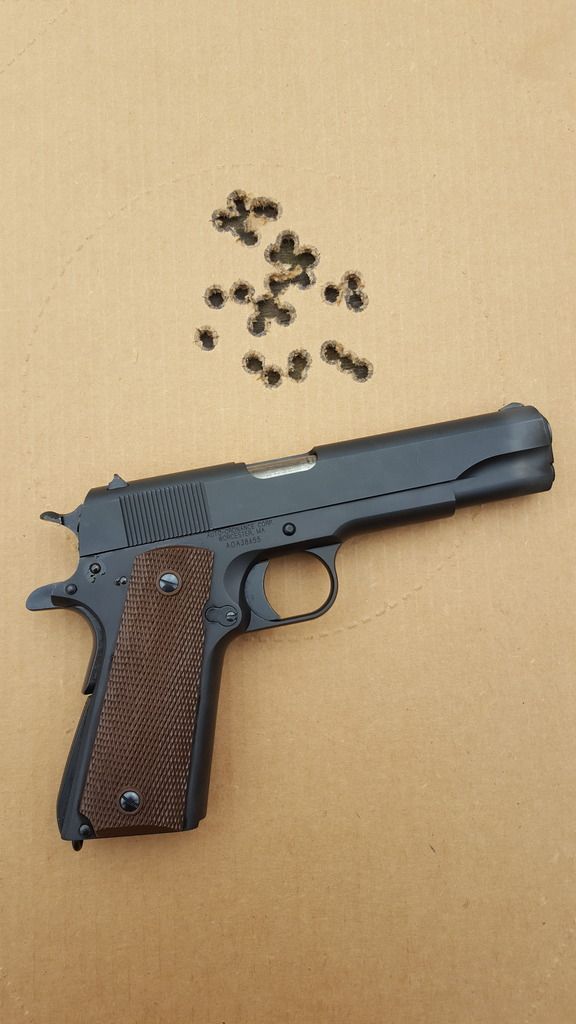 [/IMG]
Happy day at the range with a new toy that was like hugging an old girlfriend who could still get it going after so many years!
[IMG]
[/IMG]