Don't pour it out on the lawn!
I bought a bunch of WC852 during the Clinton era and it has been an exceptional powder in a number of cartridges.
There are a number of different 90,000 pound lots of WC852 that were on the market and they were all of a different burn rate. I got mine from Jeff Bartlett of GIBrass. This is the GI loading data for my lot:
30-06 Govt Loading Data: Lake City case and Primer, 60.1 grs
WC852, 152 gr Ball M2, average pressure 40,200 velocity 2750
Lot BAJ 47287
It was instructive to have the Government loading sheet. I learned that the "spec" values of GI ball are traceable to a Frankford Arsenal barrel. The Government QA guy carried calibration cartridges which in the FA barrel pushed a round 2750 fps at a known pressure. He then fired those rounds in the contractors pressure barrel and "corrected" the reading to the FA barrel. You will find if you shoot GI ball in your rifle your velocity is always less than either the FA barrel or Contractor barrel. People who quote the 2750 fps number, which they get from a TM, that number is only correct for a FA pressure barrel, you should not get those velocities from your Garand. I am of the opinion that 150 grain bullets should not go faster than 2700 fps in a Garand with 2650 fps or less being a good safe velocity.
Less is fine for a Garand:
M1 Garand 24" Douglas Barrel 1:10 twist
150 gr FMJBT 1966 Ball
14 Nov 2011 T= 74 ° F
Ave Vel = 2545
Std Dev = 20
ES = 68
Low = 2513
High = 2581
N = 8
Accurate Arms bought a different lot and sold it as "AA2700". Obviously they are out of the original WC852 but they are making new "2700", and you can compare and see that their stuff has a different burn rate.
I can only really speak about my lot of WC852, but as you can see from the GI data it is a slower burning powder than IMR 4895. I could not pack enough in a 308 case to get the velocity I wanted.
So you are out of luck for a 308 M1a.
However, I have shot kegs of the stuff in 30-06. It shoots very well in the M1, and I have shot nice targets with match bolt rifles: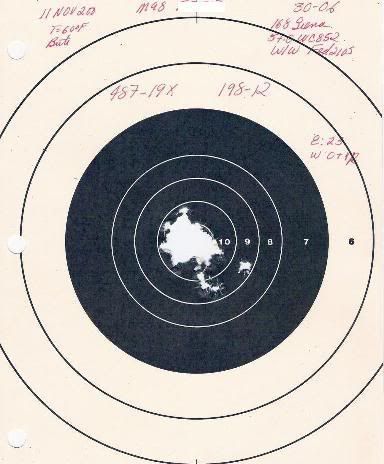 A very good 30-06 load for me is a 168 Match, 57.0 WC852, any case, CCI #34 primer.
I have shot this powder with excellent results in 270 Win, 6.5 Swede, 7 X 57, it is a champ in 7.5 X 55 Swiss. I got the velocities I wanted in 243 Win, but the barrel sucked, such is life. WC852 works well at when it is filling a case 90 to 100% up. It will not work well in reduced charges.
You need to know what lot your WC852 came from, but you can use AA2700 information as a guide.