Thank you guys for all of your advice. I've been following this forum for a few years now and I finally feel I have a range report worth posting. I know these aren't the greatest numbers, but I'm pleased that my handloads are performing better than commercial M80 clones, which was my goal from the start.
My best group was FGGM 168: Max 1.624 moa, ATC (average to center) 0.600 moa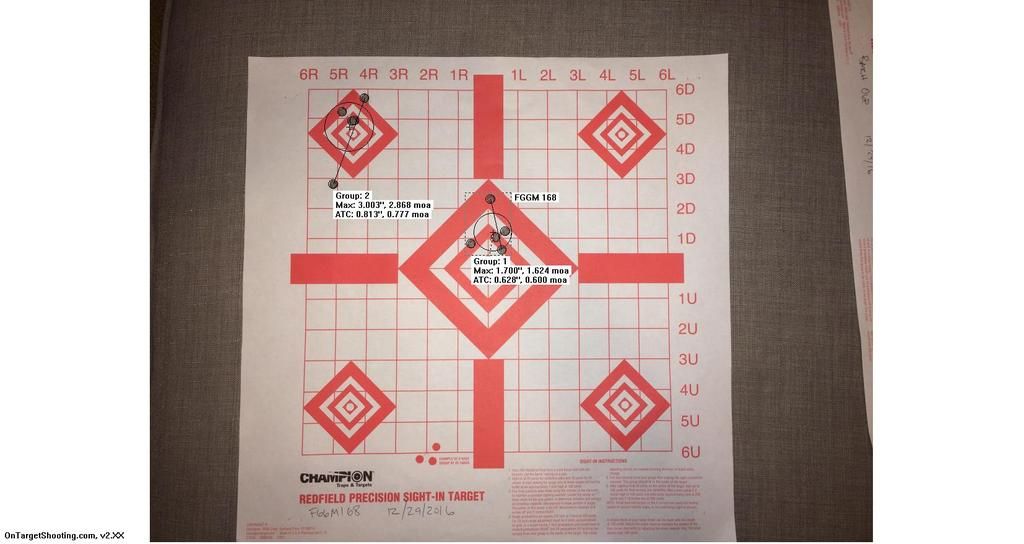 Handload Comparison: Max 3.401 moa, ATC 1.322 moa
Case: CBC12
Powder: 42 gr IMR4064
Bullet: 150 gr Hornady 3037 FMJ-BT
Primer: CCI
COAL: 2.700" ±0.005"
ZQI M80 Clone : Max 6.968 moa, ATC 2.752 moa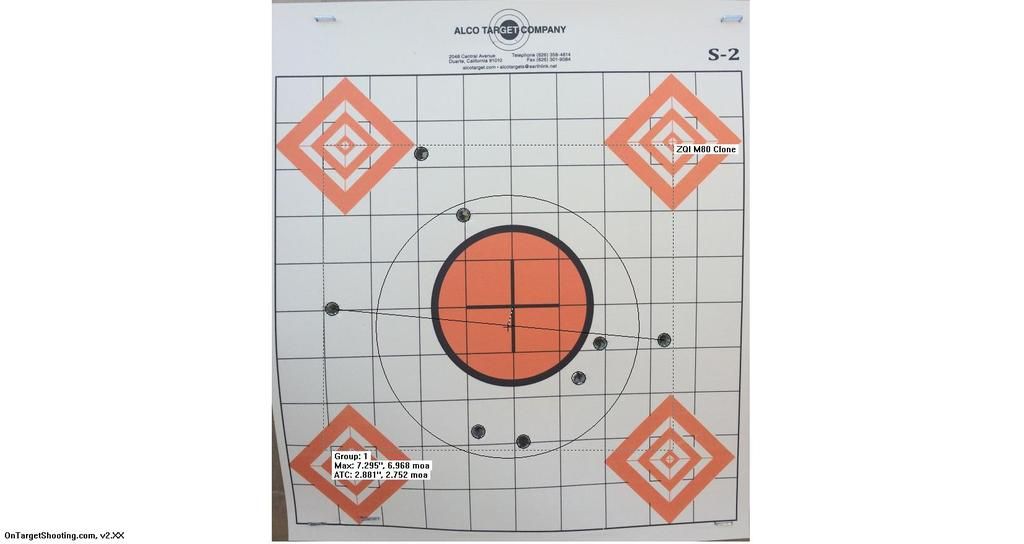 Rifle: Springfield M1A Scout Squad 18.5"
Stock: Vltor Modstock GEN 2
Scope: Leatherwood Hi-Lux ATR LER 2-7x32mm
Mods:
Ultimak M8 Railed Handguard
TreelineM14 Gas System Shim Kit
Sadlak NM Gas Piston TiN
Sadlak NM Op Rod Spring Guide
Fulton Armory Chrome Silicon Op Rod Spring
Harris Bipod
Range: 100 yd Bench Bipod supported
Do these numbers fit with your expectations for this setup and ammo? I'm new to accuracy comparisons.
My next steps are to see how much more powder I can put behind the 150 gr Hornady, maxing out at 43 gr. I'll switch to the 168 SMK after that.
Any suggestions on improving accuracy past that? I was thinking of changing the stock to an AG classic carbon fiber stock, but they are no longer producing them. Perhaps a fiberglass stock from TreelineM14?
Also, which stat is more commonly used in comparing accuracy? Max moa or ATC moa?