As most of you know, I picked up a lightly used scout squad the other day (manufactured in 2000). I plan on making incremental modifications to it in order to squeeze out all the accuracy I can from it with as little investment as possible. I'm not trying to make it a match rifle; mainly just little things that make a positive difference.
For testing purposes, I loaded up 100 rds. of 168 SMK's over 40gr H4895 at 2.8 OAL (+/-.005). M118LR brass and Winchester primers. Ladder testing will be done once I feel I'm approaching the point of diminishing return on $ vs. gain.
I took it out today for the first time to establish a baseline. Once the scope was reasonably close (2.5x Leupold), I fired 6 shots in order to give myself the option of eliminating 1 possible flier. All testing performed at 100 yards off the bench (front resting on sandbag) for now...
6 shots = 3.56 (I knew that I pulled that one in the top/left a bit)
Best of 5 = 2.39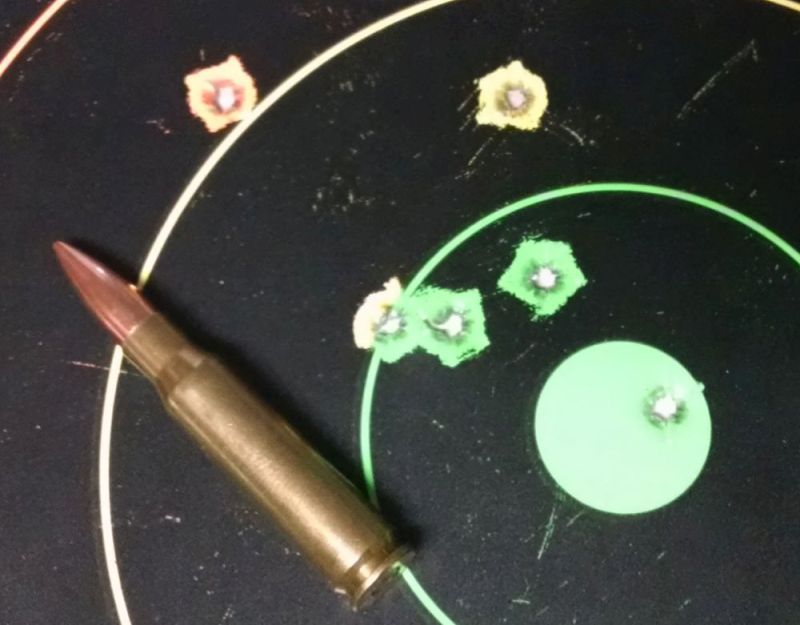 Then, I decided to try out Tubb's Final Finish bore lapping system. For those unfamiliar, this kit includes 40 projos (175gr HPBT) with jackets impregnated with 4 different grits of aluminum oxide, and 10 projos impregnated with boron nitride. 10 bullets with each grit, and you start aggressive and then use finer compounds as you progress. This process is supposed to:
- remove reamer marks in the throat from chambering
- increase dimensional uniformity (knocking off the high spots on the lands)
- smooth-out tooling marks
- increase surface finish
It sounded a bit gimmicky at first (and if it came from anyone else I'd consider it snake oil...), but I've read a few testimonials that swear by it. You load these like you would anything else, except stay around 2200 FPS (a little over most starting loads, but nowhere near max loads).
https://www.midwayusa.com/product/51...iber-and-762mm
G. D. Tubb talking about it here:
Accidentally, I didn't follow the instructions to the letter. You're supposed to start with a clean barrel (which I did), but you're supposed to clean the bore after every 5 rounds. But, I cleaned after every 10 rounds (after each compound). I believe this system was made primarily for those barrels that just don't shoot well, but overall, I feel it was worth the money for my rifle.
Overall, I'm impressed. I was actually expecting a bit worse on the first string. I wish I had a lead sled to eliminate as much human error as possible. Maybe I got lucky, maybe the wind Gods smiled upon me, maybe I held harder on the second string, etc., etc...you be the judge. I'm no world-class rifleman (far from it...), but I'm no slouch either.
Second 6-round string after the 50rd. Tubb system and cleaning:
6 shots = 2.02
Best of 5 = 1.92
I'm not sure which trick I'll work on next; maybe I'll go over the stock and contact/pressure points. For the time being, I picked up 1K pcs. of LC brass today for a smokin' deal!
-WRM